Huh, it's been a bit more than a week since my first post about my mission to clean out my craft room.... like a week and a YEAR! But have no fear! I am still working on cleaning out my craft room, so don't worry, you didn't miss too much. I did spin up that fiber I had a picture of, I've even knit it into socks! More on that later though.
This week as part of my "Clean up the craft room" mission I have decided to designate 1 day for each craft.
Monday was weaving, so I warped up my loom with the same warp that I was working on last year! Yes, I actually did get that warp onto the loom last year just like I said I would, but I did it wrong! I was SO upset!! So, I wove 2 towels that were not what I wanted, cut them off and finished them, and waited a year to re-warp! Yes, I would surely do it
correctly
this time right? Um, not so much. I did it wrong again! But different! So, I will now finish weaving about 8 towels "wrong". They'll still be woven, and they'll still be towels, but they will not be the weave I was going for. I will try for
waffle
weave towels on another warp. At least this time I know what I did wrong, and what I should do instead. This warp will still make some cool
looking
' towels anyway, just not the ones I was going for. It will be fine.
Tuesday (today) was sewing day. I FINALLY cleaned off my sewing table!!!! And when I say "cleaned off" I don't mean that I just moved everything that was on it off of it. I mean, I finished all of the projects that were just sitting there waiting for me to finish them! There were a lot of them too! You can't see it in my previous post, but there was a largish pile of stuff just sitting on the sewing table
waiting
to be fixed or finished. Here's a not-too-great picture of my sewing corner b-4 I went to town on the pile in the middle of the sewing table.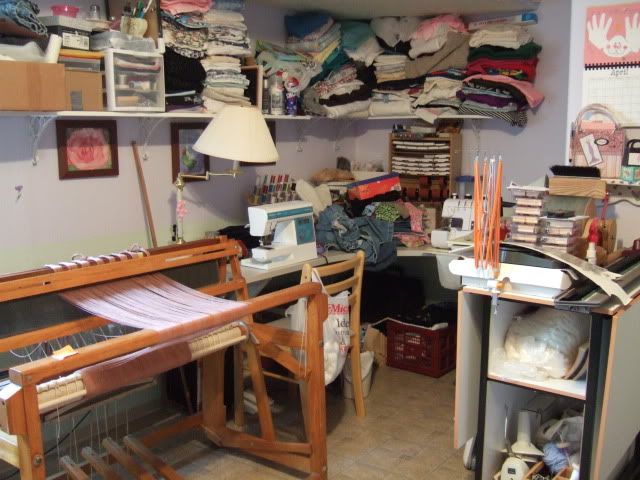 So yeah, see that pile of stuff falling over in between the sewing machine and the serger? That's the pile I'm talking about. It's now all finished, functional, presentable stuff now. Here's a picture of the finished pile.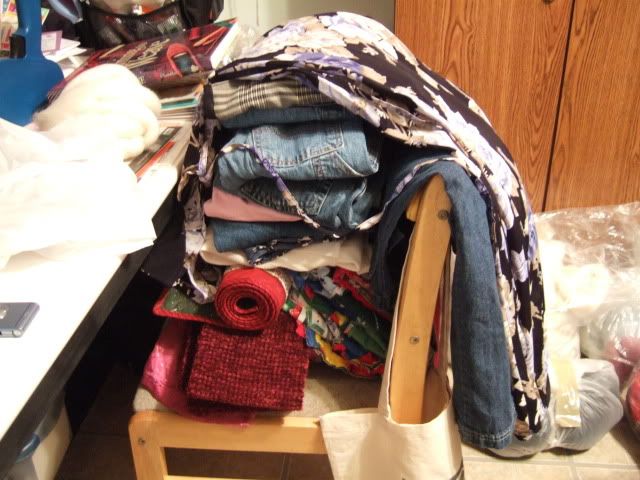 You can't see it all, but in this pile there are 3 finished outfits for a little girl, 3 scarves, a baby dress, a rag quilt, a table runner, 3 pair of PJs, 7 pair of pants/shorts, a vest, a cub scout shirt and a dress that were all in various forms of needing repairs, or finishing that are now done! :) Oh, and a few things came from the red bin under the sewing table. Yep, that's my next task, to empty that bin. Here, you can see it a little better in this picture of my table after finishing all this.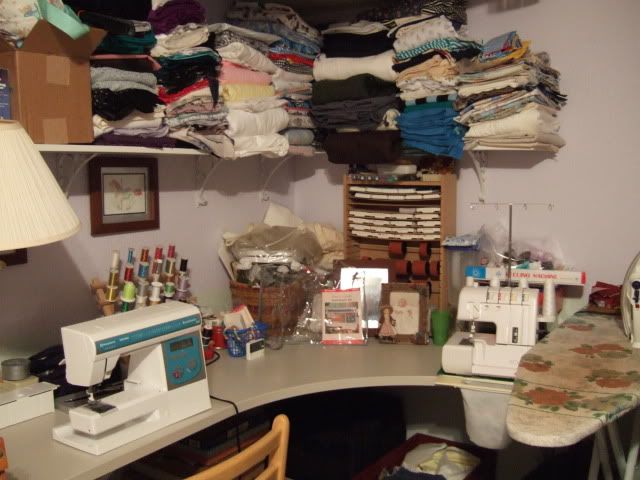 Hmmm, so the bin doesn't show all that well, but look at all that cleared off space! :) And now my kids will have plenty of shorts to wear this summer!
Wednesday I think I'll be working on some miscellaneous crafts that I don't work on very often, and don't have tons of things for. It should be interesting to see how much of those I get done. I'm almost certain most of them never got finished because I thought they were taking too long.
Thursday I will be making cards! I have over 100 cards to make from card kits I've bought over the last year or 2, and I can't use them because I haven't made them. I'm hoping to finish all the cards!
Friday I will either make hair accessories because they make such great gifts for my girls to give at birthday parties, or card up some fiber. Maybe I'll do both!
This should make a good sized dent in the mess in my craft room. And then I will resume my regular activities that generally consist of knitting a lot, cleaning and cooking a little, and conducting sock experiments!

And I'm sure it will come as no surprise to anyone who knows me, or has ever read my blog, or seen the pictures of my craft room, but I have acquired more yarn! I knit up quite a bit too though! So it's all good.
Until next time... good night.