Holy cow! It's been forever since I last posted! It would appear that I've not done anything, but that is just not the case. I've done a LOT, I just have had a hard time finding the time to post about it lately. You see, my very hard working hubby has just gone back to school full time, and I have realized how utterly lazy I was b-4 when he was a "normal" husband that came home from work every day and didn't spend all night doing homework. While I was pregnant with the twins and basically threatened to be put in the hospital indeffinatley if I did anything around the house my hubby did a LOT! And I'll be honest, I liked that! So I kinda let him continue to do whatever I didn't want to do for a while after the twins were born (I had to recover right?). Well, now he doesn't have time, so I'm back to doing just about everything I did b-4 the whole twin pregnancy thing (he still helps out a lot though), only now there are 5 kids to keep out of the dishwasher (though only 2 of them really try to climb in), and read to, and feed, and wash laundry for, and help with homework, and keep track of who went where etc. And somehow with all of this I do find time to do stuff, just not much time to post about it though. I'd like to change all that! So, I'm taking back my blog! I plan to post much more often than I have been.
Hmmm... now as I recall I left off at some yarn and batts? Well I'd like to finally share with you what I knit up with that first VERY bulky yarn that I spun on my wheel (I'd also like to note that I'm really happy with how this dyed up). It's a Quant, you can find the pattern for FREE online at
http://www.knitty.com/
in their archives.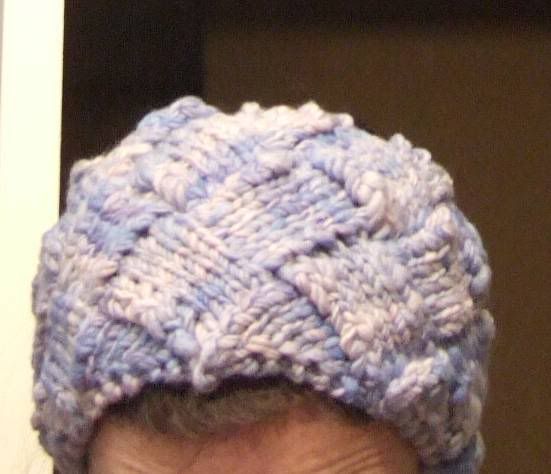 I did have to alter the pattern a bit to work with my yarn though. My yarn is MUCH more bulky than what was called for, so I used bigger needles, and took out one of the square repeats across. And it's a good thing too because this thing turned out just the right size. I think it would've been too big if I'd followed the pattern. Well, that and I would've run out of yarn. I only had about 90yds to begin with. So to anyone looking for a great project to knit up that doesn't take a lot of yarn I vote for this one!
Then there were some batts. Well I finally dyed them, and I must say I LOVE how they turned out! Just LOOK!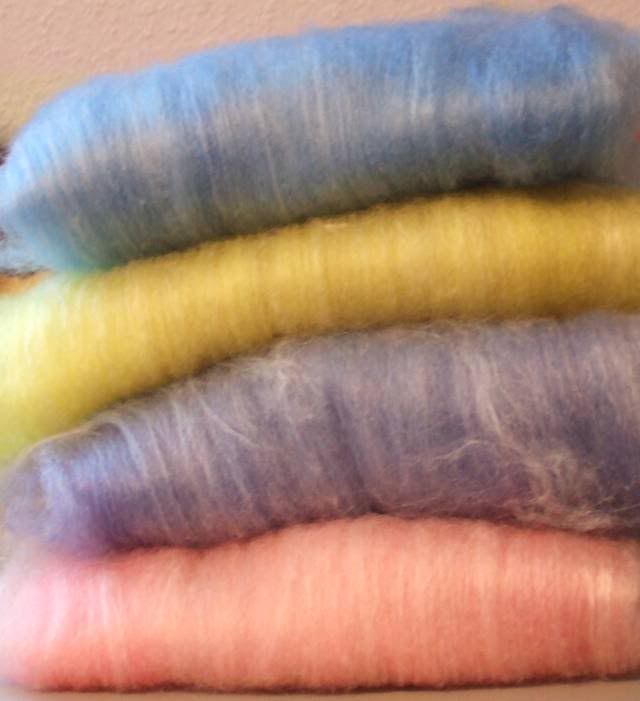 These spun up like a DREAM! I spun some super fine singles, and navajo plied it (for those that don't know what navajo plying is it's a plying method that creates a 3 ply yarn with a single strand and can help to maintain colors for striping. You can see how it's done on http://www.youtube.com/) for a really pretty fingering weight yarn with really long stripes. I think the stripes are about 10 yards long or so. I have only spun up half of it so far, but I have about 220 yards so far (that's enough for ankle socks). Here's the yarn I ended up with: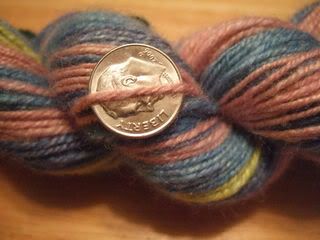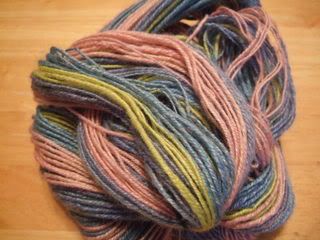 And then last but certainly not least there was that roving that I dyed. Well I'm happy to say that it turned out to be 513 yards of a fabulous fingering weight yarn! It'll make some really nice socks one day when I find just the perfect pattern. I'm calling it "Pink Lemonaid"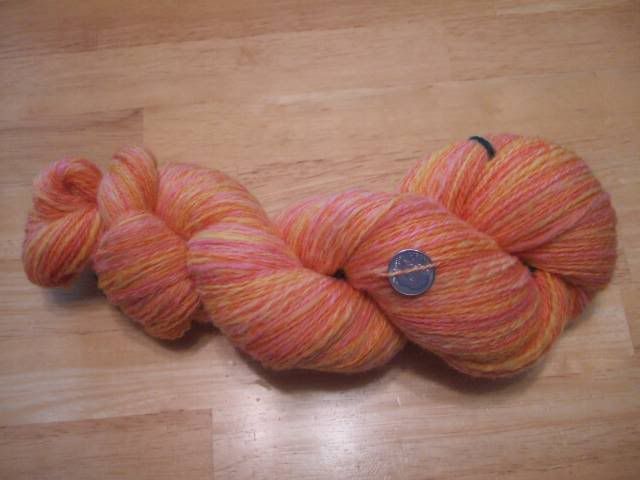 Well I think that's it for this post. I have lots more yarn to share, but that'll have to wait for another day. Now I have to go find the new stuffed doggy that my 3yo got for her birthday.
Have a great weekend!