I cleaned up my craft room a bit today and took pictures before I had a chance to mess it up again! Now it's not perfect, and I may have too much stuff, but it's as clean as it been in weeks if not longer. Besides it's hard to be creative without at least a little bit of a mess going on!
This first picture is what you see standing in the doorway.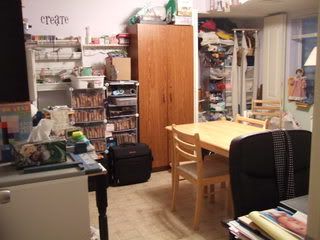 This picture is directly to the right of the door when you enter. You can see some cards I have on disply above my computer table. You can't see my laptop because it's hiding behind the comfy chair I got from my hubby cuz he wanted me to be comfy while working in my room! :) To the left of the table is the printer and a bunch of scrapbooking paper.


This picture is of my sewing nook. It's in pretty bad shape right now. I'm WAY behind on MANY many sewing projects! LOL Oh and the little TV tray there in front is the kid's crafting table. It works out perfectly when the room is clean because they can put what they're using on my big table, and when they're done it all goes back on the tray. That way it doesn't get in my way when I'm working.


This is the table where I do a lot of fiber and yarn dyeing as well as fiber blending. And this is aldo the table where I use my knitting machine. I haven't spent much time with my kitting machine since I got the drum carder though. Oh yeah and you can see all the boxes and bags under the table. Most of that is where I store my fiber stash. But some of it is fabric. The fabric is trying to take over! But the yarn, spinning fiber, and paper are definatley giving the fabric a run for its money! Oh yeah and the red bin is full of yarn!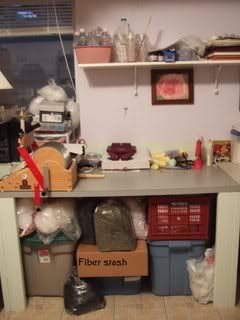 This is my spinning corner and closet. The big tall wierd looking thing is my macine quilting frame. All the white drawers are full of fabric as is the shelf above that doesn't show very well. The hanging shelves are full of yarn both hand spun and commercial. The pink drawers on the Left are full of MANY other crafty things!

This wall is where I keep my stamps (the cabinet is full of stamps too!) and my ribbon. My ribbon collection makes me very happy!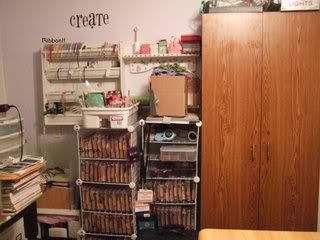 And last but certainly not least this is my scrapbooking desk. It is packed full of stamping and scrapbooking supplies. I think it's about to explode! LOL!!


Oh and you can see a little bit of the table that is in the middle of the room in this picture as well. That is where I really work on current projects. This table has many different things going on at any given moment. Seeing as how there's no space on my scrapbooking desk this is where I scrapbook, it's also where the kids work on their crafts, and where friends scrapbook with me. I've also used it to wind yarn into balls, and dye roving. And it used to be the kitchen table so it's been through a few canning seasons, and hundreds of dinners. Awww, I think I like this table! Too bad you can only see a few inches of it huh? Oh well. Anyway I hope you liked this little tour of my room. You can see there's a LOT going on in here. Maybe I need a bigger room? Oh hunny!