Ok, so in February I participated in this totally crazy knit-a-long on Ravelry where I attempted to cast on a new project each day in February. Crazy huh? I mean, I hardly ever have more than 2 or 3 WIPs (works in process) at a time. Well, I didn't actually cast on one each day, but some days I cast on 5! So, yes I now have 30 WIPs sitting in the middle of my craft room floor just waiting for me to get to them! Granted it's a pretty pile, but still, 30!? And I finished 3 of the things that I cast on! But it sure was fun even though it was totally crazy! And the benefits are that now when I want to knit something all I have to do is pick something up and work on it, there's also plenty to choose from, and when they're all done I'll have at least a year's supply of hand knit socks! Oh yeah, and I'll get a few gifts out of this as well. Wanna see what I finished?
The first FO (finished object) was a pair of mittens for my 6 yo (soon to be 7) son.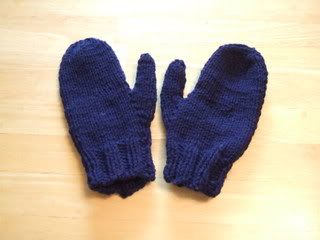 The next FO is a hat for me! :) Isn't it pretty? Won't it look nice on me next winter when it gets cold again? Well I like it!
And then there's this scarf. It'll be a gift for one of my girls for Christmas this year.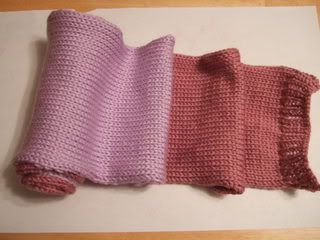 If I get brave enough, one day I'll take a picture of all these WIPs in the middle of my craft room floor, but right now I'm too afraid of them to pull them out of their bags all at once. I fear they will either attack me, or that they will get all mangled up with each other, and I'll never get them apart, and all my time spent casting them on, and picking out patterns will have been a waste. Um... I think we're all safer if they all stay where they're at for now.
I'll be back with some sort of FO from that scary pile hopefully one day soon. :)