Yes, it has be 7 1/2 months since I last updated my blog, but NOT because I have not been crafty. Just the opposite in fact. I have been busily crafting away. So far this year I have knit and crocheted 5 afghans for my kids for Christmas (bonus points for finishing Christmas gifts so soon!), 5 sweaters for me, 4 pair of socks, some slippers, a few bags, spun a bunch, sewn a little, scrapbooked a little, started warping my loom, and probably some other stuff I can't think of. I will have to share those things with you later though, because this blog is not about those projects.
This blog is about my mission. That's right! I'm on a mission to clean out my craft room!! Why? Because it's too full of stuff, and it's overwhelming me! I work better in a space that is less cluttered, more organized, and that doesn't have more stuff in it than I feel I can use in my life time. Some time ago I posted pics of my craft room. I have only acquired MORE stuff since then! Lately I have been spending a lot of time organizing my room, and trying to find the open space that I used to have and guess what I discovered? It's not there! It's gone! I filled it up with stuff! No, I really can move around in here, and get to things (I've been organizing it afterall), but there's only so much organizing that can be done to create space before you have to just start taking things out. That's the point I am at. The only way to have more space in here is to have less stuff. But I can't just throw it all out. I have to use it. Odd how it is so quick and easy to buy stuff, but using it up takes much longer. Anyhow, let me share with you what I'm attempting to do.
Here is a picture of most of my yarn and fiber. I know many people have more, but I want all my crafting supplies to fit into this closet, and they don't!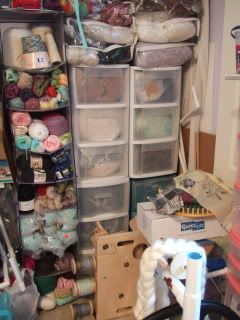 See! Here's the fabric (well most of it anyway). I have had much of this fabric since high school. I won't mention how long that has been, but it was well before I had kids, and I now have a 10 year old.
See, here's more stuff! Fiber, yarn, dyes, fabric, scrapbooking supplies (not even close to most of that!) This is what I'd like to use up in the more immediate future. Well, not the handspun yarn (upper right corner) it's welcome to hang around as long as it likes.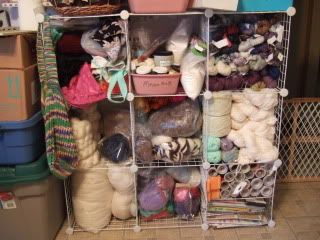 So, what I have decided to do in order to accomplish this mission I am on is to spend less time online, and more time crafting. And hopefully I will rememeber to share with you each week or so what I've been able to do.
To begin with, this week I would like to finish warping my loom. I wound this warp in December! Started trying to get it onto my loom some time after that, and here it sits still waiting for me to finish getting it warped so I can actually weave! So, the weaving goal for this week is to get the loom warped!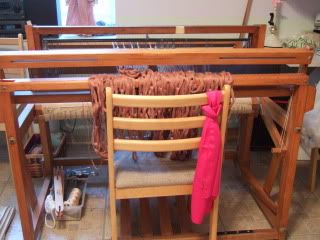 Then there are my spinning and knitting goals. This week I would like to finish spinning this fiber, and knitting these socks, and maybe this shawl (the shawl is white, socks are purple).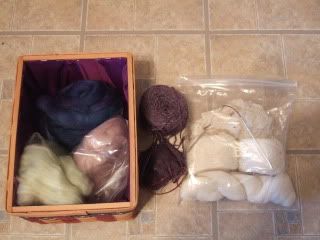 Oh yeah, and I have some sewing goals this week too. I didn't take a b-4 pic of that, but I am working on some summer outfits, and I would like to finish sewing them up this week.
Wow! That sounds like a lot! But maybe if I'm not wasting time online I will get more done than usual.
See you next week to let you know how it goes!