Ok, so I didn't update anything in July when I was ever so busily crafting the month away, nor did I update in August when I had finished crafting away, not did I update in September when I also was not crafting the month away. So, I guess now's as good a time as any to show you what I have been up to since my last post.
July was the Tour De Fleece which corresponded with the Tour De France. It's a fun event for spinners to participate in on Ravelry :) The riders spin and we spin. I had a LOT of spinning planned out for this and I did a lot of spinning even though I did not get through all the fiber I had hoped for. First I finally finished this lovely alpaca/merino yarn that I'd been planning on for a LONG time! It's a 3-ply worsted weight for which I plan to knit a lovely and warm cabled sweater. I wish I had finished it already because it's getting cold and I could use it!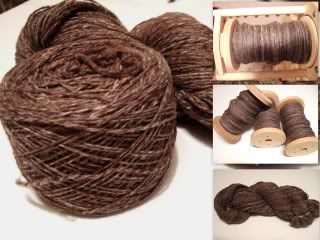 Then I spun this beaded black turquoise yarn. I don't know what to do with it yet, but I love beaded yarn!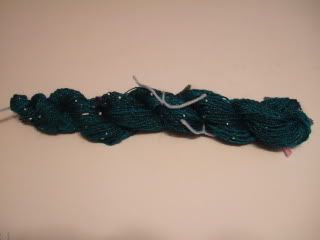 Then I spun up this lovely purple merino yarn that I then plied with metallic thread. It's so soft and sparkly!
And on the challenge day (I know know what the riders in France do, but I guess they have some sort of challenge) my personal challenge was to spin a mile total for the day. Plying counted too! And I made it! It took me all day, especially with the interruptions from the kids, but here is a lovely soft mile of merino. I think this'll be a sweater too.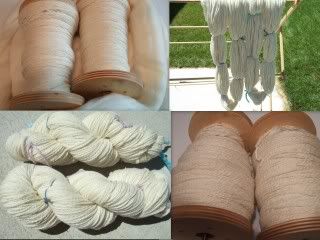 Then I spun this lovely superwash merino into a 2-ply sock yarn.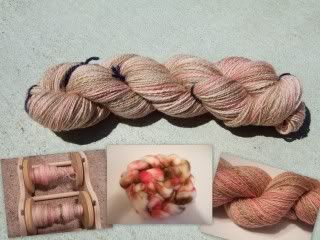 And here are the fruits of my labors. I think there is about a total of 2400 yards here, and about 40 ounces (2.25 pounds)! I'm pretty proud of this collection!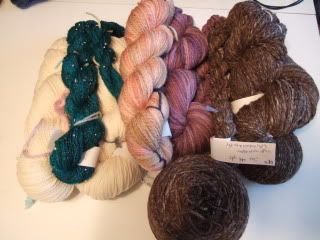 But wait, there's more! July was also the month for WIPs wrestling on Ravelry, and seeing as how I am just a glutton for punishment and always seem to have too many projects going I joined this too! Unfortunately I didn't finish very many WIPs (works in progress) because I was spinning a LOT! But one project that I did get knit up was this pair of socks. They're knit from my very first hand spun sock yarn, and I love how they turned out! You may recognize this yarn from a much earlier post if you've read my blog much. I really do love these socks!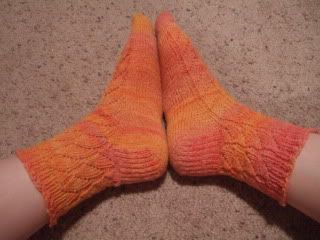 Then I knit these socks for my oldest daughter. You see, during the summer my kids needed things to do, so I had a "craft day" every Monday, and for one of these craft sessions I let the kids hand-paint some sock yarn for me to knit socks for them with. This is her yarn and these are her socks which she loves to wear. The also make it through the washer quite nicely. Thank goodness because I don't' even hand wash my own socks, I'm not about to start hand washing kids' socks!
And then I finally finished this lovely camisole. :) This was so fun to knit because I just loved the yarn I made it with. It's the new Spa yarn by Caron. There's bamboo in it! I LOVE bamboo!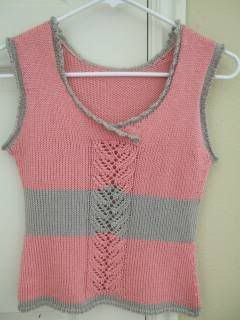 And then I was all out of month! July was over! How could that be? I was having such a great time, and just starting to feel productive! Um... so I kept on crafting anyway. I started this yarn b-4 the Tour De Fleece ended, but didn't finish, so I decided to finish it. This yarn is also a superwash merino (washable wool) sock yarn, but I spun this one into a 3-ply yarn because I hear that a 3-ply is more durable than a 2-ply, and I want to test this theory out. So I have several more sock yarns planned to spin in the future. I'll let you know how the testing goes when I have results to share.
And then I knit these socks. I did not spin or dye this yarn. I WON it! :) It was my prize for winning the drawing for the socks-from-the-toe-up knit-a-long that I'll be participating in on Ravelry for the next 2 years. I really love these socks!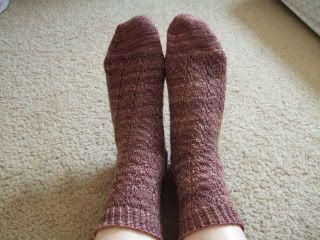 Hmmm... Knit-a-long seems to be a running theme with me. This sweater was also part of a knit-a-long. I didn't spin or dye this yarn (well I did dye the top part, but not the stripey part), but I did knit this sweater. It's quite warm, which is a good thing because I don't like to be cold, and it's getting cold. I need more sweaters!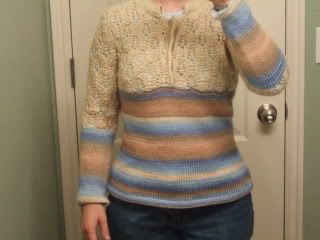 Then September held for me the Great Basin Fiber Arts Fair. :) A lovely little fair held in Utah. I got some lovely fiber (that I do not have pictures of), and a cute little spindle from Greensleeves.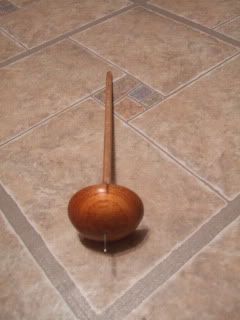 And then I was also able to squeeze in this pair of socks (recognize the yarn?). I love pink/brown, and they're ever so cozy.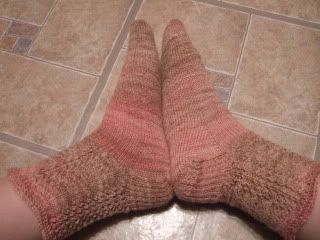 There you have it folks! This is what I've been up to in my craft studio in between feeding and cleaning up after the kids since my last post. Guess what's on the needles now? Yeah socks, how'd you guess? They're gonna be great! Just wait and see!