Yes that's fleece NOT France! I've joined the tour de fleece on Ravelry this year. Tour de Fleece was started a few years ago (I believe this is the 3rd year?) and is durring the tour de france each year. It's an online event where a bunch of crazy spinners try to spin as much (or as little) as they can/want each day of the tour de france that the bikers ride. So it started Saturday July 5th, I'm not even sure right now when it ends, but I think it'll be fun! So far I've spun at least some each day, (it's only day 4) but I haven't gotten a lot finished. You see I decided to start with this beautifuly hand dyed red wool roving that I plan on plying with silk caps dyed the same color. It'll make a nice fluffy, dull/shiny contransting yarn. The problem is that I'm somehow not in the mood to spin these silk caps. I think it's the drafting. Drafting silk caps is different than drafting wool, and I guess I need to be in the mood to do it or I end up putting it off. So while I may well have about 100 yards of silk spun up, I need about 200yds I'm guessing, and have very little desire to work with this fiber at the moment. *sigh* this is bad because I really would like to move on to spinning some lovely carded batts. But I'm making myself finish these caps first! Otherwise they man never get done! hmmm, wanna see the fiber I'm working with? Ok, here's the wool. It spun up so nicely.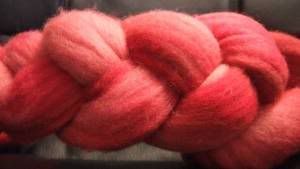 And here are the silk caps. They're so very soft, and spinning up nice and shiny. But I'm getting bored drafting them. Hmm maybe the cure is to draft while watching a great movie? It's worth a shot huh!? Anyway here are the silk caps, they were very fun to dye!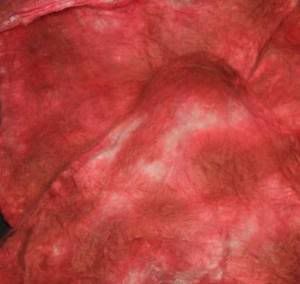 Anyway, I before the tour started I went through all my fiber, and decided how I wanted to spin it all because I'm hoping to make it through the vast majority of my fiber stash by the end of the tour. I'll try to keep you updated on my progress as the tour progresses. And if I'm ever going to finish up these silk caps I'd better get spinning! Hopefully I'll have pics of this fiber all plied up by tomorrow! :) Then it's on to something in batt form!
Happy spinning!