So WAY back in the middle of June I "met" a lovely person in a chat room who dared me to knit a shawl from laceweight handspun yarn. I thought she was a nut! I'd never spun laceweight yarn, and I'd never knit a shawl. Laceweight yarn is REALLY thin! I wasn't sure I could spin that thin without breaking my yarn constantly in the process. But it did sound like a great challenge. So, while I sure took my sweet time about getting it done (5 months!) I began the journey anyway. I pulled out some tussah silk (lovely stuff!), and merino wool (also VERY lovely stuff!) from my stash, and divided it out, and dyed it in varying shades of blue. I was going for a blue shawl that would get darker as it went down, so I started with a rather light blue, and gradually got darker.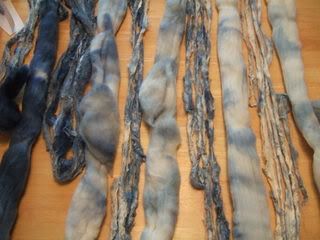 Then I carded it up into these batts. I had 5 batts to begin with, but the first yarn ended up too thick, so I didn't use the first skein. This had me worried about whether I'd have enough yardage for my shawl or not. But I figured it would be close, but that I should still have enough yarn with just the 4 batts, so I continued spinning, and spinning, and spinning.
And came up with these 4 lovely balls of laceweight handspun hand dyed yarn. These are pretty true to the actual color :) Then I cast on for a lovely shawl called "Laminaria" that I got from knitty.com. And I knit, and knit, and knit, and just when I thought I would never really have a shawl, I would just be knitting with this yarn forever...
I finished! Yay! I know it looks kinda funny, and not real lacey at all, but this is when I got to have a lesson in blocking. I don't really knit a lot of things that actually NEED to be blocked, but this lace shawl definately needed it! So, I went on a rustproof pin hunt, and found them at JoAnn's. Came home, and blocked my shawl. So now not only am I much less afraid of blocking my knitting, but...
I have this lovely lace shawl! And I had PLENTY of yarn!! I suspect I may have enough left over for another shawl, maybe a much smaller one, but still, that's a lot of leftover yarn considering the fact that I was worried about running out b-4 I finished. Though I'm also thinking maybe the rest will be a scarf, or some sort of other item. Anyhow, I'm so happy with this shawl! And I plan on wearing it out to dinner this Friday for my 10Th wedding anniversary.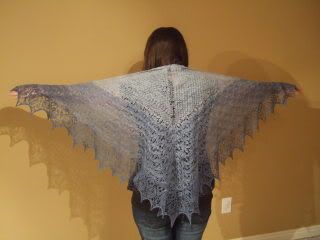 If I had to estimate how long this took me to dye, blend, spin and knit I'd have to guess it was somewhere around 102 hours! With 85 of those all being knitting! And I'm not kidding! There are about a zillion stitches in this thing, and some of them are far more complicated than just knitting. But that's why I like knitting it! Never a dull moment! I should've weighed it b-4 posting this. I wonder how much it actually weighs? I'll have to check on that and get back to you. Have a great day! :)