What I've been up to lately huh?
Well, I spun this on a spindle. It's 2 ounces of nylon. I bet you didn't now there were people who spin nylon into yarn huh? Well I did. It was fun. I think that I will dye this up one day and knit something for the kids. Though I haven't decided what I'll make yet. So until then it'll sit in my handsup stash looking pretty.
And I knit this hat. It'll be a Christmas gift for one of my girls I think. Go me!! I've started on Christmas gifts early for what my be the first time ever! Ahhh... It feels good! ;)
And it being Easter last week and all I just had to dye up some Eastery yarn. I call this "Have your peeps call my peeps" :) hehe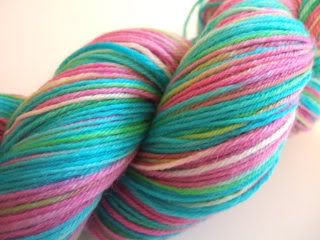 And this one is called "Jelly beans"
And this one is "Smells like peeps spirit" hehehe
And I knit this felted bag which I finished while watching general conference the week b-4 Easter.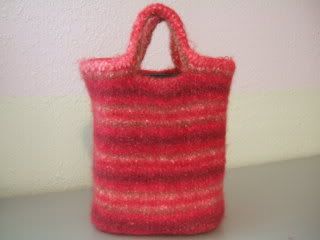 And I finished these felted slippers just b-4 that. They're knit with some of my own hand dyed yarn in the "Pink Lemonade" colorway. They make my feet happy!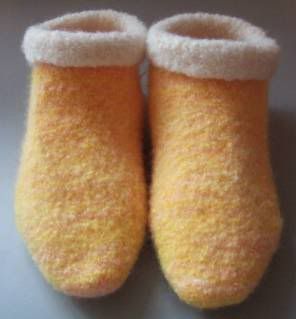 And I spun this yarn. It's 100% tussah silk in the natural honey color. I just LOVE it!!!! Tussah is SO fabulous to spin and knit with!! It's SOOO very soft too! :) I like to look at this one and pet it as it sits in my stash.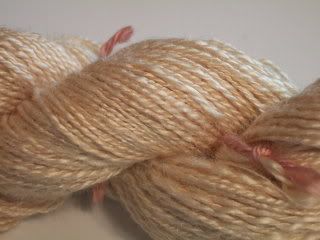 And this morning I finished this hoodie for my older DD. Though now it's too warm for her to wear it, so I think I may save it and give it to her when school starts again in the fall. She doesn't really have a jacket with a hood right now. So I think it'll be perfect for her when it starts getting cold again.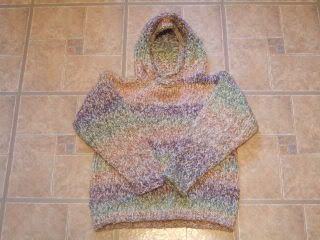 On to the next project! I've got TONS of them in the works!! I have them all sitting out on a table in my craft room. It's overflowing! I've gotta clear it off one FO (finished object) at a time. Maybe I'll show you a pic of my table later. Maybe. Have a great day!