Ok, I must apologize for being such a lazy blogger lately! Sorry! I didn't realize that I haven't posted anything since APRIL! That was a long time ago! So here's a real quick update on my craftyness of late. I have some exciting plans for July, so I'd better get caught up in hopes of not getting behind in July.
I finished this little bear. Isn't he cute? I'm not really sure what to do with him yet. I think I might just let him sit in my craft room and knit him some accessories once in a while.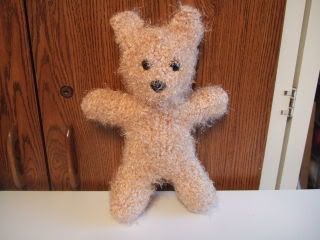 I spun this family of yarns. Though the one 2nd in from the right has moved on to a new home. I'm thinking of spinning another one that is similar though. It is truly missed from the family.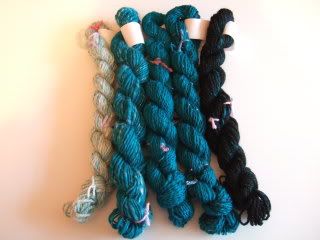 Then I spun this yarn.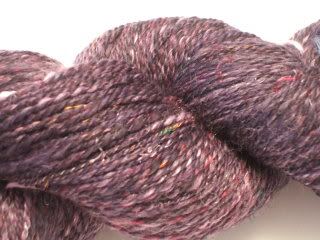 And knit this sweater (it now has real buttons). I pretty much love it.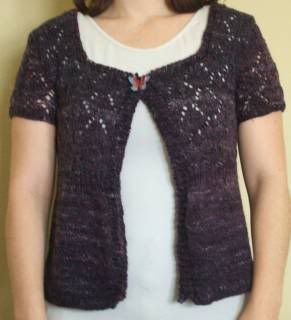 I also knit this blanket for twin A. I finished twin B's baby blanket b-4 they were born, and started on this one (in a totally different pattern), but then they were born 5 weeks early and I ran out of time. So the poor little guy had to go on without a hand knit blankie from mom until he was 2! But luckily he LOVES it! :)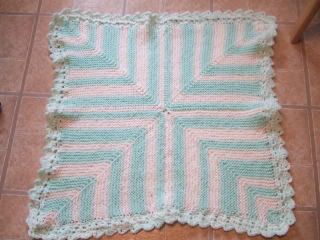 I also knit this little hat for my niece who has had to stay in the hospital for WAY too long. Poor girl. I think pink is certainly her color!
And in June so far I have knit these socks.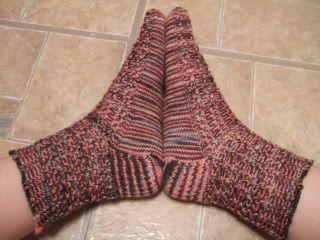 And these socks.
And I finally finished this shawl which will be a Christmas gift for my 4yo daughter to use as a fancy shmancy dress up. But it's made with leftover acrylic yarn from DS's blanket so it's machine washable! :) And I like it so much I'm posting 2 pictures!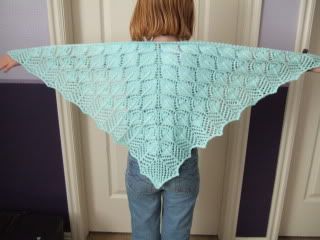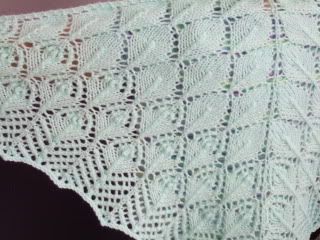 Tune in again next time to see what crazyness I've gotten myself into!